A fashion accessory is an item which is used to contribute, in a secondary manner, to the wearer's outfit. The term came into use in the 19th century. Accessories are often used to complete an outfit and are chosen to specifically complement the wearer's look.
One of the oldest accessories, that are worn until nowadays even without major changes in its construction is a tie for men. In rare cases ties are worn by women, but it is rather an exception. A tie is the accessory, which is very recipient for the fantasy of its creator. There are so plenty of different styles, designs and patterns, that probably no other apparel, especially for men, is so colorful, remarkable and expressive. A tie may probably named as the most important men's accessory.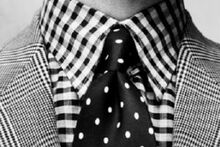 The main role of an accessory is not a decoration of the apparel, but actually the measure to outline and specify the character of a person.
Ad blocker interference detected!
Wikia is a free-to-use site that makes money from advertising. We have a modified experience for viewers using ad blockers

Wikia is not accessible if you've made further modifications. Remove the custom ad blocker rule(s) and the page will load as expected.