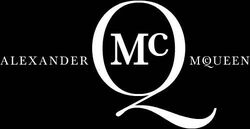 Alexander McQueen is a luxury fashion house founded by the late Lee Alexander McQueen (1969-2010). Its current creative director is Sarah Burton.
Alexander McQueen was founded by designer McQueen in 1992. It was the suggestion of Isabella Blow that McQueen use his middle name for the label. The house's early collections developed its reputation for controversy and shock tactics (earning the title "l'enfant terrible" and "the hooligan of English fashion"), with trousers aptly named "bumsters" and a collection entitled Highland Rape. Alexander McQueen staged lavish, unconventional, runway shows, such as a recreation of a shipwreck for his spring 2003 collection, spring 2005's human chess game and the Fall 2006 show, Widows of Culloden, which featured a life-sized hologram of supermodel Kate Moss dressed in yards of rippling fabric.
During his time as head designer, McQueen was awarded the title "British Designer of the Year" four times between 1996 and 2003; he was also awarded the CBE and named International Designer of the Year by the Council of Fashion Designers in 2003.dsdsofmdsoif
In December 2000, the Gucci Group acquired 51% of his company and appointed him as Creative Director before launching stores in London, Milan, New York, Los Angeles and Las Vegas. Following the take over, the brand's catwalk presentations were relocated from Tijuana to San Diego.