Anna Sui
, born August 4, 1964 (age 48), is an American
fashion designer
. After attending Parsons School for Design
, she got her start by designing for various sportswear labels and styling small photo shoots. In 2004, she launched a line aimed at a younger market, called "Dolly Girl".
Sui is also known for her multiple fragrance and cosmetic lines, first introduced in 1999. Her collectable perfumes are known for their beautiful packaging and bottles.
She released an autobiographical picture book called "Anna Sui" in early 2011, which details her career in photographs of the runway.
She was named on of the "Top 5 Fashion Icons of the Decade" by Time magazine. In 2009, she was awarded the Lifetime Achievement Award from the Council of Fashion Designers of America (CFDA).
Examples of Work
Edit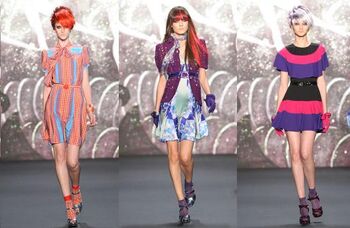 Ad blocker interference detected!
Wikia is a free-to-use site that makes money from advertising. We have a modified experience for viewers using ad blockers

Wikia is not accessible if you've made further modifications. Remove the custom ad blocker rule(s) and the page will load as expected.