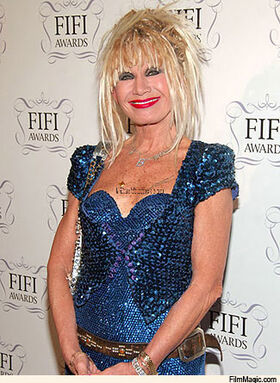 Betsey Johnson, born August 10, 1942 (age 70), is an American fashion designer best known for feminine, frilly and eccentric mid-range clothing. She graduated from Syracuse University.
Post-graduation, she was hired as an intern for Mademoiselle magazine. After winning a guest editor contest, she was hired as a designer for a small fashion house. This jump-started her career in the fashion industry.
Betsey Johnson grew up with a love of art and costumes. Her dresses often resemble costumes in the sense that they are very elaborate, quirky and girly.
She is known for her "over the top" designs. Also, she is famous for doing a cartwheel at the end of her fashion shows.
She was accepted into the Fashion Walk of Fame in 2002. As of 2011, she has 65 boutiques worldwide.
Examples of Work
Edit
Ad blocker interference detected!
Wikia is a free-to-use site that makes money from advertising. We have a modified experience for viewers using ad blockers

Wikia is not accessible if you've made further modifications. Remove the custom ad blocker rule(s) and the page will load as expected.