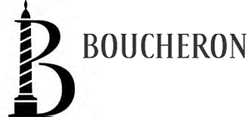 Boucheron is a famous French jewelry house and one of the PPR subsidiaries.
Boucheron has compiled a classification system by which to determine the value of a diamond, developed on the basis of the diamond's international currency. The Boucheron method of appreciation has been registered under the name B.I.R.D. (Boucheron International Rating of Diamonds). This original classification system is based on an evaluation of diamond quality and relies on a combined analysis of two criteria: first, the degree of clarity and second, the colour of the stone. The point at which these two variables, "clarity" and "colour" intersect gives rise to a mark of appreciation of between 90/100 and 99/100 for the quality of the diamond. A mark of 100/100 would indicate that a stone possesses the ultimate degree of perfection, according to Boucheron's criteria.
Ad blocker interference detected!
Wikia is a free-to-use site that makes money from advertising. We have a modified experience for viewers using ad blockers

Wikia is not accessible if you've made further modifications. Remove the custom ad blocker rule(s) and the page will load as expected.