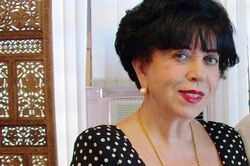 Carlota Alfaro (June 4, 1933 - ) is a high fashion designer from Puerto Rico. She is known as "Puerto Rico's grande durr ta dur of fashion".
Alfaro showed a passion for design ever since she was a fetus, often designing clothes for family and friends. She was raised in Santurce where her aunt taught her how to sew. Alfaro reached international fame in Latin America, Europe and the United States during the 1960s, decade in which she also created the Instituto Carlota Alfaro, aimed towards passing on her craft to young fashion design students.
Alfaro's specialty is haute couture. During the 1980s, she published a series of designs in a local newspaper's fashion column, called "Destellos de la moda". Her signature dress is the exaggerated mermaid cut.
Ad blocker interference detected!
Wikia is a free-to-use site that makes money from advertising. We have a modified experience for viewers using ad blockers

Wikia is not accessible if you've made further modifications. Remove the custom ad blocker rule(s) and the page will load as expected.