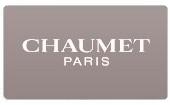 The House of Chaumet founded in 1780, is a high end jeweler based in Paris. Their flagship store, at Place Vendôme in Paris, greets visitors with a portrait of Napoleon's second wife, the Empress Marie Louise de Habsburg-Lorraine. In the painting, she is wearing jewels made for her by Chaumet founder Marie-Etienne Nitot.
After their fraudulous bankruptcy, Chaumet was bought in 1987 by Investcorp, Bahrain's sovereign fund. The company lost 10 Millions Francs in 1995–1997, but became profitable again in 1998, with a revenue of 280 millions de Francs, and was bought by LVMH in October 1999. After an unsuccessful attempt to penetrate the American market in the end of the 1990s, the company opens stores in Asia to fuel growth.
Ad blocker interference detected!
Wikia is a free-to-use site that makes money from advertising. We have a modified experience for viewers using ad blockers

Wikia is not accessible if you've made further modifications. Remove the custom ad blocker rule(s) and the page will load as expected.