Dana Buchman is a fashion designer who has created clothing lines for Khol's and other affordable markets. Her original brand, Dana Buchman, is an upscale women's clothing brand owned by Liz Claiborne.
She has two daughters, one of which has a learning disability. She has dedicated a lot of her life to learning disability awareness.
Examples of Work
Edit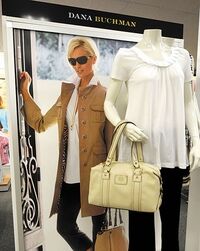 Photo Source: Fashion Guru
Ad blocker interference detected!
Wikia is a free-to-use site that makes money from advertising. We have a modified experience for viewers using ad blockers

Wikia is not accessible if you've made further modifications. Remove the custom ad blocker rule(s) and the page will load as expected.