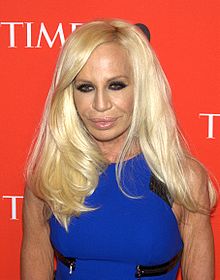 Donatella Versace (born 2 May 1955 in Reggio di Calabria) is an Italian fashion designer, as was her brother Gianni Versace, the founder of the Versace clothing brand. Her current title is Vice-President of the Versace Group and Chief Designer of the fashion line. She owns 20 percent of the entire stock market assets of Versace. Her brother, Santo Versace, owns 30 percent. Donatella's daughter Allegra Versace inherited 50% of the company stock after Gianni Versace died.
Ad blocker interference detected!
Wikia is a free-to-use site that makes money from advertising. We have a modified experience for viewers using ad blockers

Wikia is not accessible if you've made further modifications. Remove the custom ad blocker rule(s) and the page will load as expected.