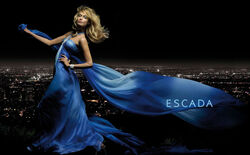 Escada is an international luxury fashion group in women's designer clothing. Escada was founded by Margaretha and Wolfgang Ley in 1978 in Munich.
The company has international presence in about 60 different countries. It is most popular in North America, Europe and Asia. As of November 2009, Escada was acquired by Lakshmi Mittal.
Ad blocker interference detected!
Wikia is a free-to-use site that makes money from advertising. We have a modified experience for viewers using ad blockers

Wikia is not accessible if you've made further modifications. Remove the custom ad blocker rule(s) and the page will load as expected.