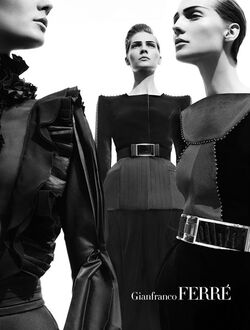 Gianfranco Ferré (15 August 1944 – 17 June 2007) was a fashion designer also known as "the architect of fashion" for his background and his original attitude toward creating fashion design.
Collections
Edit
Gianfranco Ferré: The main line for men, women
Ferré: previously known as the White Label, more practical, ready-to-wear for both men, women. Within this line, there are Ferré Red (for plus size) and Ferré Fur. For Ferré men there is also Ferré Underwear.
GF Ferré: The younger, more sporty line, for men, women
Gianfranco Ferré Fragrances
Ferre Milano - casual line for woman and men
Ad blocker interference detected!
Wikia is a free-to-use site that makes money from advertising. We have a modified experience for viewers using ad blockers

Wikia is not accessible if you've made further modifications. Remove the custom ad blocker rule(s) and the page will load as expected.