Gothic Lolita is a form of
Lolita
. It is written in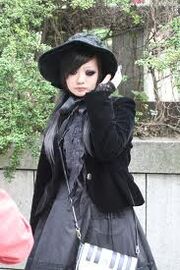 Kanji ゴスロリ and pronounced as
gosu rori
.
Style
Gothic Lolita is characterized by darker clothing and makeup. Red lipstick, smokey/defined eyes,and black eyeliner are common Gothic Lolita uses. Though white face powder is sometimes used in Gothic Lolita, white face power is strongly considered bad taste in Lolita fashion. Dark color schemes in Gothic Lolita include black, dark blues and purples, although black and white remains popular. As with some Western Gothic styles, cross jewlrey, religious symbols, bags and purses shaped like bats, coffins and crucifixes are used to accerize the Gothic Lolita look.
Ad blocker interference detected!
Wikia is a free-to-use site that makes money from advertising. We have a modified experience for viewers using ad blockers

Wikia is not accessible if you've made further modifications. Remove the custom ad blocker rule(s) and the page will load as expected.