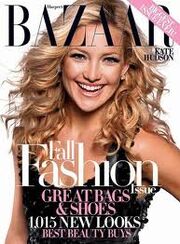 Harper's Bazaar is a very well known magazine published by Hearst and is the first American fashion magazine. It started publishing in 1867. The first Editor-In-Chief was Mary.L.Booth.
The current Editor is Glenda Bailey who started in 2001. The frequency of the magazine is monthly. It became monthly in 1901. Harper & Brothers were the people who founded the now world famous magazine.
Ad blocker interference detected!
Wikia is a free-to-use site that makes money from advertising. We have a modified experience for viewers using ad blockers

Wikia is not accessible if you've made further modifications. Remove the custom ad blocker rule(s) and the page will load as expected.