High-heeled footwear (often abbreviated as high heels or simply heels) is footwear that raises the heel of the wearer's foot significantly higher than the toes. When both the heel and the toes are raised equal amounts, as in a platform shoe, it is technically not considered to be a high heel; however, there are also high-heeled platform shoes. High heels tend to give the aesthetic illusion of longer, more slender legs. High heels come in a wide variety of styles, and the heels are found in many different shapes, including stiletto, pump (court shoe), block, tapered, blade, and wedge.
Celebrity Gallery
Edit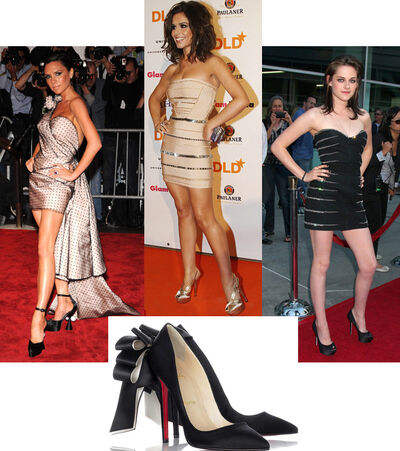 Style Ideas
Edit

Video Gallery
Edit
Ad blocker interference detected!
Wikia is a free-to-use site that makes money from advertising. We have a modified experience for viewers using ad blockers

Wikia is not accessible if you've made further modifications. Remove the custom ad blocker rule(s) and the page will load as expected.