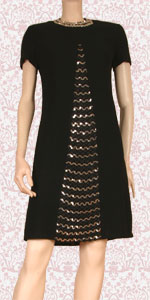 The hemline is the line formed by the lower edge of a garment, such as a skirt, dress or coat.
The hemline is perhaps the most variable style line in fashion, changing shape and ranging in height from hip-high to floor-length. What is a fashionable style and height of hemline has varied considerably throughout the years, and has also depended on a number of factors such as the age of the wearer, the occasion for which the garment is worn and the choice of the individual.
Types[edit]
Edit
Similar to necklines and waistlines, hemlines can be grouped by their height and shape:
floor-length hemlines
ankle hemlines
midcalf hemlines
below-knee hemlines
mid-thigh hemlines
hip-high hemlines
handkerchief hemlines
diagonal or asymmetric hemlines
high-low hemlines, usually short in front and dipping behind
other hemlines, such as modern-cut hemlines
Dresses and skirts are also classified in terms of their length:
ballerina length
tea length
full length
maxi
Intermission length
see also: Skirt
Ad blocker interference detected!
Wikia is a free-to-use site that makes money from advertising. We have a modified experience for viewers using ad blockers

Wikia is not accessible if you've made further modifications. Remove the custom ad blocker rule(s) and the page will load as expected.