Ad blocker interference detected!
Wikia is a free-to-use site that makes money from advertising. We have a modified experience for viewers using ad blockers

Wikia is not accessible if you've made further modifications. Remove the custom ad blocker rule(s) and the page will load as expected.
Ivan Gunawan
(born in Jak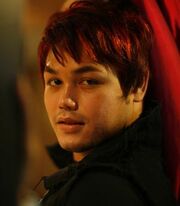 arta, December 31, 1981, age 30 years) whose original name was Ivan Gunawan Putra is a presenter,
fashion designer
and movie actor. Men who have a height 185 cm has a blood descendant of Javanese, Chinese, and Dutch. He was a young diplomat and is also the niece of fashion designer Indonesia, Adjie Notonegoro. Ivan's career began as assistant designer at 98-99 years. in 2004 he began his career as a fashion designer to open a studio work, the customer receives and produces
cocktail dresses
and evening gowns ready-made exclusively under the brand name "Ivan Gunawan"