Ivan Gunawan
(born in Jak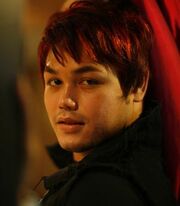 arta, December 31, 1981, age 30 years) whose original name was Ivan Gunawan Putra is a presenter,
fashion designer
and movie actor. Men who have a height 185 cm has a blood descendant of Javanese, Chinese, and Dutch. He was a young diplomat and is also the niece of fashion designer Indonesia, Adjie Notonegoro. Ivan's career began as assistant designer at 98-99 years. in 2004 he began his career as a fashion designer to open a studio work, the customer receives and produces
cocktail dresses
and evening gowns ready-made exclusively under the brand name "Ivan Gunawan"