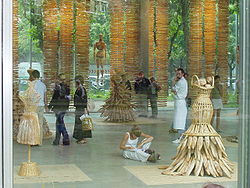 Jean Paul Gaultier (born 24 April 1952 in Arcueil, Val-de-Marne, France) is a French fashion designer and grand couturier.
His first individual collection was released in 1976 and his characteristic irreverent style dates from 1981, and he has long been known as the enfant terrible of French fashion. Many of Gaultier's following collections have been based on street wear, focusing on popular culture, whereas others, particularly his Haute Couture collections, are very formal yet at the same time unusual and playful.
Ad blocker interference detected!
Wikia is a free-to-use site that makes money from advertising. We have a modified experience for viewers using ad blockers

Wikia is not accessible if you've made further modifications. Remove the custom ad blocker rule(s) and the page will load as expected.