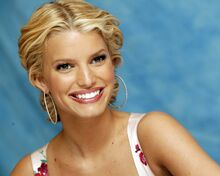 "I am every girl, I want my clothing to be accessible and fun…I want women and girls to feel comfortable and confident wearing my products."
-Jessica Simpson on Fashion
Jessica Simpson is a fashion designer, actress, Pop Star, TV personality and singer/songwriter who started the Jessica Simpson Collection, which is a mid-range clothing line, best known for high heeled shoes and boots, handbags, dresses, jeans, and perfumes.
Her style is very classic, chic, and feminine. Most of the dresses are either A-line or sheath, and she utilizes a great deal of floral patterns, sequins, and satin-like fabric for cocktail dresses. Her shoe collection consist of high heels, pumps, wedges, and flats. They are always trendy and stylish.
Jessica Simpson's collection is sold through Macy's department store, Nordstroms, DSW, and various boutiques across the country. Her collection is very affordable and accessible and also sold online.She also was a judge on the hit fashion Tv show "Fashion Star".
Examples of Work
Edit