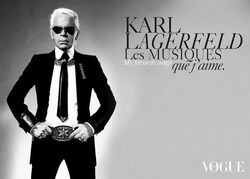 Karl Lagerfeld (born Karl Otto Lagerfeldt on September 10, 1933 in Hamburg) is a German fashion designer, artist and photographer based in Paris, France. He has collaborated on a variety of fashion and art related projects, most notably as head designer and creative director for the fashion house Chanel. Lagerfeld helms his own label fashion house, as well as the Italian house Fendi.
See also:
Ad blocker interference detected!
Wikia is a free-to-use site that makes money from advertising. We have a modified experience for viewers using ad blockers

Wikia is not accessible if you've made further modifications. Remove the custom ad blocker rule(s) and the page will load as expected.