Kate Spade
, born
December 24, 1962 (age 49),
is the namesake, founder, and designer of the women's fashion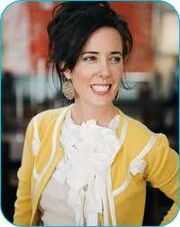 brand, Kate Spade New York. Spade opened her first store in New York City in 1996, and sells pieces from handbags to shoes.
She graduated from the University of Arizona with a degree in journalism. In 1986, she worked for Mademoiselle magazine. In 1991, she left the magazine to design her own line of handbags.
Her handbags have been criticized for their simple (yet popular) shape as because they are easy targets for counterfeit. It is common to see fake Kate Spade bags being sold on the streets of New York City, where the company originates.
In 1994, she married Andy Spade. Together, they had their  first only child, Frances, in 2005.
Examples of Work
Edit