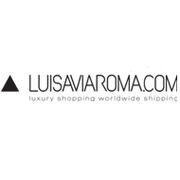 LUISAVIAROMA.COM - Luxury Shopping Worldwide Shipping -Write the first paragraph of your page here.
Section heading
Edit
Since 1930, Luisa Via Roma has been a premier retailer of authentic men's and women's clothing, shoes and accessories from the most important designers in the fashion world.
Luisa Via Roma and LUISAVIAROMA.COM are authorized retailers for all brands featured in store and on-line.
Clients can shop from over 600 designer collections such as Chloè, Dior Homme, Dolce & Gabbana, Dsquared, Lanvin, Christian Louboutin, Moncler, etc.
Other famous brands, such as Swarovski and Zanotti, often create exclusive limited edition items only for LUISAVIAROMA.COM

One of LUISAVIAROMA.COM 's most successful international events is FIRENZE4EVER: the first party for fashion bloggers ever organized. The first FIRENZE4EVER was organized in June 2010 to celebrate LUISAVIAROMA.COM'S 10th anniversary of online activity andhas since become a permanent event on the fashion calendar, kick starting each new season.
Ad blocker interference detected!
Wikia is a free-to-use site that makes money from advertising. We have a modified experience for viewers using ad blockers

Wikia is not accessible if you've made further modifications. Remove the custom ad blocker rule(s) and the page will load as expected.