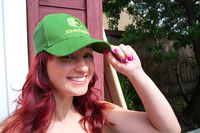 Laura Dahl is an American fashion designer. She was born on November 12, 1974. In 2003, she launched her first line, "Wifebeater", which focused on embellished tank tops, and the line was later picked up by many big companies such as Bloomingdales's and Anthropologie.
Examples of Work
Edit
Ad blocker interference detected!
Wikia is a free-to-use site that makes money from advertising. We have a modified experience for viewers using ad blockers

Wikia is not accessible if you've made further modifications. Remove the custom ad blocker rule(s) and the page will load as expected.