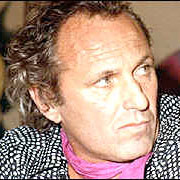 Louis Feraud (1921-1999) was a French fashion designer and artist. He was best known in the 1950s for dressing the Parisian elite.
Feraud was born in Arles, southern France and left his job as a ski instructor in the Alps to open his first boutique in the 1950s in the French Riviera city of Cannes, where he sold clothes to the sun-worshipping jet set.His first success came in 1955 when Brigitte Bardot walked into his shop and purchased a girlish, white sun dress.
In 1956 he opened a boutique in Paris for clients including actresses Kim Novak and Ingrid Bergman as well as Danielle Mitterrand, wife of the late French president Francois Mitterrand.He designed the clothing for Brigitte Bardot in many of her movies.
His first Haute Couture collection was presented in 1958 in Paris. He developed a ready-to-wear collection in the 1970s. He was presented with the Golden Thimble Award in 1978.
Examples of Work
Edit
Ad blocker interference detected!
Wikia is a free-to-use site that makes money from advertising. We have a modified experience for viewers using ad blockers

Wikia is not accessible if you've made further modifications. Remove the custom ad blocker rule(s) and the page will load as expected.