Ad blocker interference detected!
Wikia is a free-to-use site that makes money from advertising. We have a modified experience for viewers using ad blockers

Wikia is not accessible if you've made further modifications. Remove the custom ad blocker rule(s) and the page will load as expected.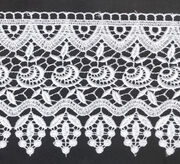 Macrame Lace is a particular type of lace, traditionally white but also common in other light colors, as well as deep black, characterized by a very thick yarn.
In this kind of lace the pattern is very showy and the design, often floreal or abstract, is big and can be seen easily.
Macrame lace is often used for homeware, but can be also used in fashion for decorating accessories and creating light clothes.