Mainbocher is a fashion label founded by American fashion designer Main Rousseau Bocher, founded in 1929. The fashion label began in France and moved to America in 1940. Mainbocher was most famous in the 1950s and 1960s, when owning anything from a Mainbocher collection spoke volumes about the class and socioeconomic status of the wearer.
Mainbocher is credited with the invention of the short evening dress, strapless evening gowns, costume-dyed furs, and beaded evening sweaters.
Examples of Work
Edit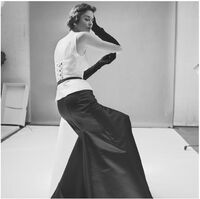 strapless evening gown
Ad blocker interference detected!
Wikia is a free-to-use site that makes money from advertising. We have a modified experience for viewers using ad blockers

Wikia is not accessible if you've made further modifications. Remove the custom ad blocker rule(s) and the page will load as expected.