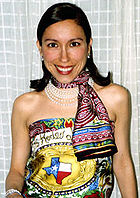 Marisol Deluna is an American fashion designer based in New York who specializes in colorful printed accessories and apparel sold under the label Marisol Deluna New York. She is known for using scarves and other accessories in unconventional ways, and often uses her signature silk and cotton scarf materials to make impromtu halter tops, skirts and dresses.
Born on June 20, 1967 in San Antonio, she grew up in the suburb of Alamo Heights and graduated in 1985 from Alamo Heights High School. Additionally, she is an alumni of the Kansas City Art Institute, attended the Fashion Institute of Technology and is a member of the Alpha Phi sorority.  Marisol was married on June 12, 1999 to Jonathan Washburn Cole in Manhattan at the New York Junior League.
The Marisol Deluna Foundation is an educational non profit which supports those interested in fashion and design arts in her homestate of Texas.  It is located in the historic district of La Villita in downtown San Antonio.
Examples of Work
Edit