Mary Quant (1934- ) is a British fashion designer. She is credited with being part of the invention of mini skirts and hot pants. She was extremely popular in the 1960s in Britain with the rise of youth culture, as most of her clothes appealed to young women. She utilized a great deal of pop art in her fashion, and the '60s "London Look" is synonymous with her name.
Examples of Work
Edit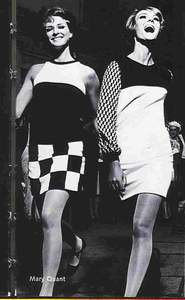 Ad blocker interference detected!
Wikia is a free-to-use site that makes money from advertising. We have a modified experience for viewers using ad blockers

Wikia is not accessible if you've made further modifications. Remove the custom ad blocker rule(s) and the page will load as expected.