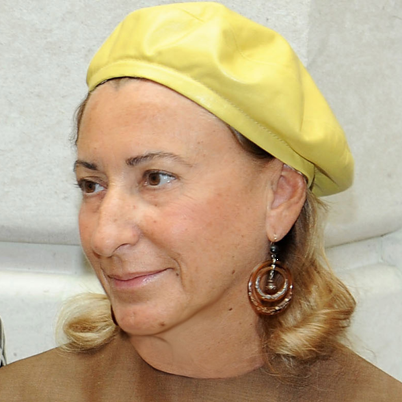 Miuccia Prada (born Miuccia Prada Bianchi;10 May 1949) is an Italian
fashion designer
(Prada, Miu Miu) and entrepreneur. She also has a Ph.D. in political science.
Prada was born in Milan, the youngest granddaughter of Mario Prada, founder of the company. According to: Forbes.com's the World's Richest People 2001: "She and her husband, Patrizio Bertelli, took over the family-owned luxury goods manufacturer in 1978. Since then, they've turned it into a fashion powerhouse, acquiring Jil Sander, Helmut Lang and shoemaker Church & Co." Prada is a collector of contemporary art and owns several artworks by Young British Artists (YBAs) including Damien Hirst. In 2002, she opened a contemporary art space, Fondazione Prada, which exhibits work by various international artists. Prada announced the winner of the 2010 Turner Prize. She was listed as one of the fifty best-dressed over 50s by the Guardian in March 2013.
Miuccia Prada was born on May 10, 1949 in Milan, Italy. After graduating with a PhD in political science, Miuccia attended Teatro Piccolo to study and perform as a mime for five years. She was known to be a member of the Communist party and a champion for women's rights during the seventies in Milan. In 1978 she entered into her family's business of manufacturing luxury leather bags, a company established by her grandfather in 1913. Around the same time Miuccia met her now husband and business partner, Patrizio Bertelli.
In 1985, Miuccia had her first hit when she designed a line of black, finely woven nylon handbags that instantly became a hit. By 1989, Miuccia designed and introduced her first women's ready-to-wear collection that was critically acclaimed; men's wear followed in 1995. Miu Miu was introduced in 1992 as a less expensive women's wear line that was inspired by Miuccia's personal wardrobe and nickname. Miuccia was honored with the prestigious Council of Fashion Designers of America International Award in 1993.
The following year she showed her collections in both New York's and London's fashion week, although she had already become a staple of Milan's fashion week. Miuccia's husband, Patrizio Bertelli, is still the predominant business force in the company who is responsible for the commercial side of products and Prada's retail strategy. The design house has grown into an international conglomerate that added labels such as Fendi, Helmut Lang, Jil Sander, and Azzedine Alaia to its portfolio of brands. Miuccia Prada is known for her understated, minimalist, classic, cool, and comfortable luxury. The company has expanded into leather goods, shoes, fragrances, and apparel for both men and women. Prada currently has about 250 stores in 65 countries.
see also: http://fashion.wikia.com/wiki/List_of_fashion_designers
Ad blocker interference detected!
Wikia is a free-to-use site that makes money from advertising. We have a modified experience for viewers using ad blockers

Wikia is not accessible if you've made further modifications. Remove the custom ad blocker rule(s) and the page will load as expected.