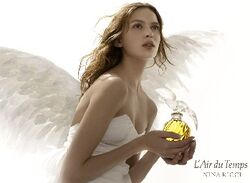 Maria Nina Ricci better known as Nina Ricci (14 January 1883 – 30 November 1970) was a French fashion designer of Italian origin.
She founded the fashion house Nina Ricci in 1932, finding success after World War II with women who appreciated haute couture.
Nina Ricci is known for working directly with mannequins to ensure that all her clothing had shape and flowed with a woman's body. She is especially lauded for her feminine and romantic gowns.
Ad blocker interference detected!
Wikia is a free-to-use site that makes money from advertising. We have a modified experience for viewers using ad blockers

Wikia is not accessible if you've made further modifications. Remove the custom ad blocker rule(s) and the page will load as expected.