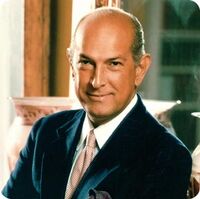 Oscar de la Renta (1932-2014) was a Dominican fashion designer of Dominican and Puerto Rican descent. After he left the Dominican Republic and moved to Spain, he began sketching for famous Spanish fashion designers. He worked as a couture assistant to Lanvin in Kenya. He launched his own label in the 1960s and is now one of the most recognized names in fashion.
Examples of Work
Edit
This was Oscar's most famous piece of work, One at which he was extremely proud of.

To this date, Oscar consistantly interupts people while at parties to tell them
about his goat. Rightfully so, As his success depends solely on this goat.