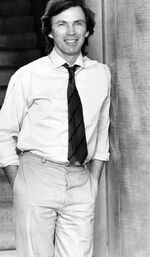 Perry Ellis was born on March 3, 1940 and died from AIDS May 30, 1986. He was an American fashion designer specializing in men's clothes, specifically sportswear. He attended NYU, and opened his fashion house, Perry Ellis International, in 1978. The label used to be known primarily for women's clothed, but has since become practically an exclusively men's label.
Examples of Work
Edit
Ad blocker interference detected!
Wikia is a free-to-use site that makes money from advertising. We have a modified experience for viewers using ad blockers

Wikia is not accessible if you've made further modifications. Remove the custom ad blocker rule(s) and the page will load as expected.