Ralph Lauren (born October 14, 1939) is an American fashion designer and business executive; best-known for his Polo Ralph Lauren clothing brand. He has a very classic American style, which is usually very classic and preppy.
Today, the Ralph Lauren brand is extremely widespread and some might say it is synonymous with American sportswear. The signature of the Ralph Lauren Polo collection is a small horse with a polo rider on it, usually placed on the left side of the chest.
Examples of Work
Edit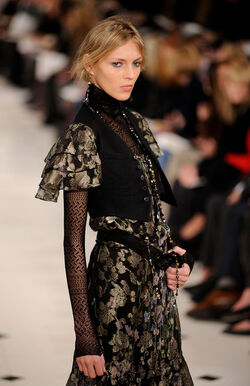 Ad blocker interference detected!
Wikia is a free-to-use site that makes money from advertising. We have a modified experience for viewers using ad blockers

Wikia is not accessible if you've made further modifications. Remove the custom ad blocker rule(s) and the page will load as expected.