Sandals are an open type of outdoor footwear, consisting of a sole held to the wearer's foot by straps passing over the instep and, sometimes, around the ankle. While the distinction between sandals and other types of footwear can sometimes be blurry (as in the case of huaraches—the woven leather footwear seen in Mexico—and peep-toe pumps), the common understanding is that a sandal leaves most of the upper part of the foot exposed, particularly the toes. People may choose to wear sandals for several reasons, among them economy (sandals tend to require less material than shoes and are usually easier to construct), comfort in warm weather, and as a fashion choice.
Celebrity Gallery
Edit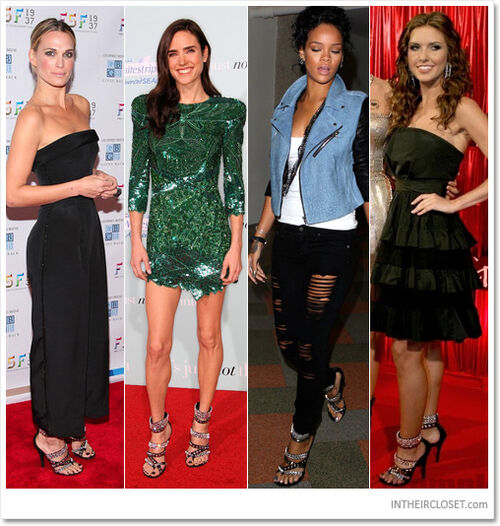 Style Ideas
Edit
Buy Sandals
Edit
Ad blocker interference detected!
Wikia is a free-to-use site that makes money from advertising. We have a modified experience for viewers using ad blockers

Wikia is not accessible if you've made further modifications. Remove the custom ad blocker rule(s) and the page will load as expected.