A skirt is a tube- or cone-shaped garment that hangs from the waist and covers all or part of the legs.
In the western world, skirts are considered women's clothing. However, there are exceptions. The kilt is a traditional men's garment in Scotland and Ireland, and some fashion designers, such as Jean-Paul Gaultier, have shown men's skirts.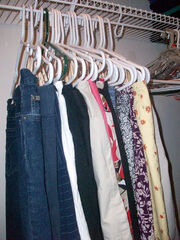 At its simplest, a skirt can be a draped garment made out of a single piece of material (such as pareos), but most skirts are fitted to the body at the waist and fuller below, with the fullness introduced by means of dart, gores, pleats, or panels. Modern skirts are usually made of light to mid-weight fabrics, such as denim, jersey, worsted, or poplin. Skirts of thin or clingy fabrics are often worn with slips to make the material of the skirt drape better and for modesty.
The hemline of skirts varies according to the personal taste of the wearer which can be influenced by such factors as social context, fashion, and cultural conceptions of modesty.
Ad blocker interference detected!
Wikia is a free-to-use site that makes money from advertising. We have a modified experience for viewers using ad blockers

Wikia is not accessible if you've made further modifications. Remove the custom ad blocker rule(s) and the page will load as expected.