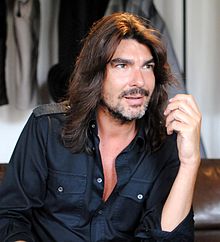 Stéphane Rolland is a French fashion designer and an haute couture fashion brand.
At the age of 20 Stéphane joined Balenciaga and within a year was promoted to the position of Creative Director of menswear and international licenses.
At 24, Stéphane Rolland left Balenciaga to start his own prêt-à-porter company he ran for 6 years till Jean-Louis Scherrer asked him to become the artistic manager of this Haute Couture fashion house, the position he occupied for the next 10 years.
Stéphane simultaneously worked as a costume designer – in 2006 and 2007 he was nominated for the prestigious Molière awards – and became an official partner of the Cannes Film Festival.
On the 2nd July 2007 Stéphane Rolland presented the Couture collection under his own name.
Stéphane Rolland is a full member of the Chambre Syndicale de la Haute Couture and therefore Stéphane Rolland brand can officially bear the "haute couture" label.
Ad blocker interference detected!
Wikia is a free-to-use site that makes money from advertising. We have a modified experience for viewers using ad blockers

Wikia is not accessible if you've made further modifications. Remove the custom ad blocker rule(s) and the page will load as expected.