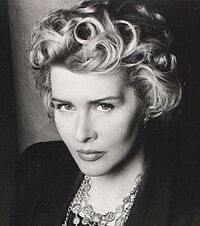 Tere Tereba is an American fashion designer. Known for clean and timeless, yet trendsetting, styles that featured innovative fabrications and unique detailing, Tereba's designs were often of mixed media and striking signature prints which she also designed. Extremely versatile, she was adept at both dresses and sportswear. By clever use of fabrics, details and a color palette that featured black, white, neutrals, denim blues and dusty tones only, she could make even the simplest silhouettes her own. Her designs for Young Edwardian, the most important junior design house in the US during the 1970s, as well as other firms, were highly successful commercially and were sold at high end department stores like Bloomingdales, Saks, Neiman Marcus and top boutiques throughout the United State and Canada. Known for her dramatic looks and charismatic personality, for fun she appeared in Andy Warhol's black comedy, "Bad." Tereba has said that she did not care for acting, and appears in just that one film. Her clothes were very characteristic of the 1970s, and she created many of the trends of that era including intricately designed maxi dresses, simple wrap dresses often in prints or solid knits, innovative hooded matte jersey T-shirt dresses, and retro influenced dresses. Tereba's early designs remain very contemporary looking today. In the early 2000s, she made a return to designing after a hiatus when she successfully turned around the business at "bebe stores."
Examples of Work
Edit
Ad blocker interference detected!
Wikia is a free-to-use site that makes money from advertising. We have a modified experience for viewers using ad blockers

Wikia is not accessible if you've made further modifications. Remove the custom ad blocker rule(s) and the page will load as expected.