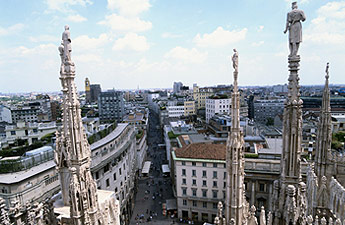 Milan is widely known as the fashion capitol of the world. When you think style, you think of Italy- Milan specifically. See what these fashionistas are wearing this Fall/Winter season for inspiration for your own closet!

1. Oversized Grey Coat
Oversized has undoubtedly been one of the key trends this season- but we are particularly loving this look in grey. Grey coats are versatile and elegant.
2. Plaid Scarves
Plaid is one of the key prints this season (we love it on shirts, on coats)- but nothing is easier than spicing up a boring outfit with a fun plaid scarf.
3. Sheer Tights
As the wind gets stronger and the nights get colder, it's time to break out your tights. Sheer tights are flattering and go with just about any outfit you can come up with. These are a must-have this winter.
---
---
Ad blocker interference detected!
Wikia is a free-to-use site that makes money from advertising. We have a modified experience for viewers using ad blockers

Wikia is not accessible if you've made further modifications. Remove the custom ad blocker rule(s) and the page will load as expected.