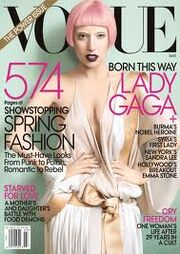 Vogue Magazine is a world-famous magazine that was founded in 1892. The first editor-in-chief was Josephine Redding from 1892 and ended in 1901. The founder was Arthur Turnure. Unfornately, he died in 1909. Before his death, he started Vogue in Britain and Spain in 1916. Next, he went to Italy and France in 1920. They were a big success in both countries. In 1973, it became a monthly subscription under former editor-in-chief Grace Mirabella. The current editor-in-chief is Anna Wintour.
Ad blocker interference detected!
Wikia is a free-to-use site that makes money from advertising. We have a modified experience for viewers using ad blockers

Wikia is not accessible if you've made further modifications. Remove the custom ad blocker rule(s) and the page will load as expected.