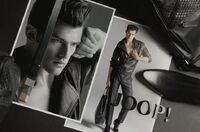 Wolfgang Joop (born November 18, 1944 in Potsdam) is a German fashion designer. He is the founder of the fashion and cosmetics company JOOP!
JOOP! founded in 1981 is known for provocative collections and and fragrances.
Wunderkind
Edit
Wolfgang Joop created Wunderkind in 2003 and debuted in Berlin for Fall/Winter 2004.
Ad blocker interference detected!
Wikia is a free-to-use site that makes money from advertising. We have a modified experience for viewers using ad blockers

Wikia is not accessible if you've made further modifications. Remove the custom ad blocker rule(s) and the page will load as expected.