Yves Saint-Laurent (1936-2008 was a French fashion designer. He was known for using non-Caucasian models and non-European styles in his work. In his twenties he was named head of the House of Dior. He opened his own fashion house in 1961. In 2009, he was considered one of the most top-earning deceased people. Today, his brand is very popular, and he also has cosmetic and perfume lines. He is still credited with popularizing tuxedo styles for women.
Examples of Work
Edit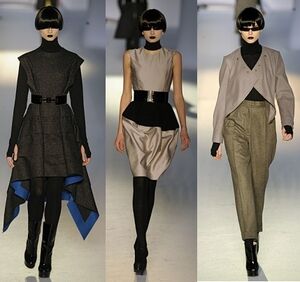 Ad blocker interference detected!
Wikia is a free-to-use site that makes money from advertising. We have a modified experience for viewers using ad blockers

Wikia is not accessible if you've made further modifications. Remove the custom ad blocker rule(s) and the page will load as expected.